UMBC students practice Spanish in Barranquilla, Colombia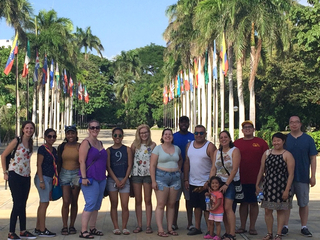 UMBC students practice Spanish and participate in cross-cultural engagement in Barranquilla, Colombia
Shortly after UMBC's spring 2017 semester ended, ten UMBC students embarked on the trip of a lifetime to the Caribbean city of Barranquilla, Colombia. Accompanied by Barranquilla native and MLLI Lecturer Milvia Hernandez, the cohort of students ranging from upcoming sophomores to upcoming seniors spent the month of June studying Spanish and Colombian culture at La Universidad del Norte. In addition to intensive language and culture classes, the students had ample opportunities to participate in classes and other cross-cultural activities with local Colombian students.
 Despite the fact that the trip was only a month long, the group had the opportunity to experience many different areas of Colombia's northern coast, traveling each weekend to different cities such as Cartagena and Santa Marta. The students visited museums, danced salsa, took tours of local coffee plantations and places of historical significance, relaxed on various Caribbean beaches, and had plentiful opportunities to engage with locals and enjoy Colombian cuisine. 
When not traveling, students participated in a home stay with a local Colombian family, which allowed them to form strong personal connections that many have continued to maintain after returning to the United States. The trip provided each student with an invaluable opportunity to fully experience a culture different from their own, and each student returned to UMBC with increased confidence in their Spanish language skills and a newfound love of the vibrant nation of Colombia."
Madeline Dement, B.A. Global Studies, Class of 2020