A Russian New Year's Celebration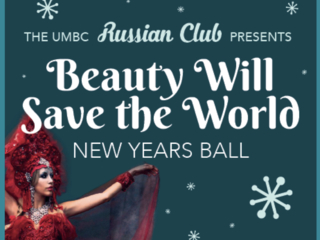 This past December the Russian Club, under the direction of Vira Zhdanovych, organized a multi-faceted festival on campus.  The "New Year's Ball" included artwork from the exhibit One Hundred Years Later, selections from the Nutcracker by the Classical Ballet Theatre of Maryland, a gown collection by Iryna Mologoko of MILA Fashion, folk music by the Saint Petersburg Trio, and a performance by the UMBC Russian Chorus.  Russian and Central Asian cuisine was catered by Silk Road Bistro.  Ballroom dancing rounded out the event.  Present at the festival were representatives of the Voice of America, who compiled a video clip which can be viewed here:  
https://www.golos-ameriki.ru/a/russian-christmas/4181731.html
Russian Club president Morgan Chadderton provides the following translation of the Russian captions in the clip:
UMBC celebrates Russian New Year
Caption: A Russian New Year's celebration on a grand scale was organized by members of the UMBC Russian Club.
Narration:  Grandfather Frost on the UMBC campus is an exotic but welcome guest.  The current president of UMBC Russian Club, Morgan Chadderton, admits that preparing such events, and at the height of the semester, can be difficult.
Morgan: "Yes, sometimes it is difficult to find free time, but we have a great team and we work together to organize the events and it turns out great."  Where else can you hear the American national anthem played on the Russian balalaika? And where else can you learn to dance a Finnish polka, a Russian quadrille, or lead a Slavic round dance? 
Associate Dean Dr. John Stolle-McAllister: "This is my third time going to one of these events and each time you don't know what surprise awaits you. That's how it was today, and there are so many students coming from different departments, and alumni as well." 
Lajerian Williams is a future computer engineer, but in response to my question What is your favorite Russian song, he immediately suggests singing a duet.  Lyrics of Moscow Nights.
Perhaps the success of these events is that they have a place for creative self-expression for everyone. 
Vira Zhdanovych:  We want to expand our festival, make it not only a festival of Slavic culture, but of East-European, West-European, German, and French cultures. We want to unite all cultures. There are many cultures represented at our university, and that's why our event is so successful.