Fulbright Fellow Dr. Chris Tong, Nanjing University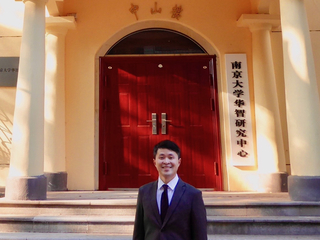 I was selected for a Fulbright U.S. Scholar Grant to conduct research in Nanjing, China, where I will be affiliated with Nanjing University during the academic year 2018-19. 
Environmental disasters spotlight some of the most profound effects of extreme weather and climate change on human society in the anthropocene. From the 1999 earthquake in central Taiwan to the 2008 earthquake in Sichuan, China, and from the 2004 Indian Ocean tsunami to the 2011 tsunami off the coast of Japan, the effects of environmental disasters on the social fabric and political landscape of respective countries are more visible than ever. As one of the largest nations in Asia to undergo political revolution in the 20th century, China is an important case study on the interplay between politics, culture, and environment. 
My project,Torrents of Revolution: The Writing of Environmental Disasters in Modern China, 1930-1949, analyzes how written narratives shape the meaning of environmental disasters by envisioning the rhetoric and practice of political representation in times of crisis. From 1911 to 1949, China not only experienced fundamental changes in its language, culture, and society, but also witnessed some of the worst environmental disasters in its history. The Yangzi River saw five major floods from 1583 to 1911; however, six afflicted the country from 1911 to 1935 alone. Meanwhile, the intentional breaching of the levees at Huayuankou in 1938 shifted the course of the Yellow River by several hundred miles. The death tolls from environmental disasters in the Republican period, over 20 million, rival those of the Ming and Qing dynasties combined. While there is an established conversation on the history of environmental disasters in China, I will discuss the depiction of individual and communal experiences on the ground, a domain well served by literary and cultural productions. In addition to literary narratives, I will make use of archival materials on flooding and disaster response at the Second Historical Archive in Nanjing, a national depository for Republican-era government documents.