Meet Our Current Graduate Students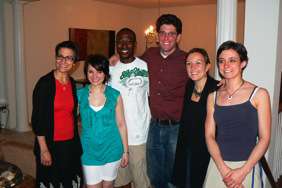 Among the many things you'll find exciting about the UMBC Intercultural Communication (INCC) Program are the wide range of career opportunities and the interesting people you'll discover here. This diversity gives you the opportunity to meet and learn with students pursuing a variety of career goals, yet who share common interests and background in language and culture. INCC students come from diverse cultural, social, economic, and educational backgrounds. Each student enriches the program and larger campus culture with his or her varied life story and experiences, and the classroom serves as an intercultural laboratory to explore and learn with others. INCC provides a supportive educational environment where individual difference are valued, allowing all students to achieve and contribute to their full potential.
UMBC Graduate Student Association (GSA)
GSA Research Grant Application
Angela Alascia

I graduated from Ohio Northern University in 1991 with a major in French and Spanish. I obtained my Secondary Education certification at the College of Notre Dame of Maryland. I plan to study in Salamanca this summer, as part of the INCC program. I love to travel. It is my passion! I was an international flight attendant for ten years, so I had an opportunity to sample many countries. I'm happy to say that I have been fortunate enough to return to many of them for vacations. Most recently, my husband and I traveled to France with students. This spring we are headed to Costa Rica for a chance to experience its beauty and biodiversity. I currently teach French and Spanish at a high school in Carroll County, Maryland. I hope to instill in my students the same love for other languages and cultures that my teachers fostered in me. Earning this degree has completely changed the person that I am and how I view the world. It has made me a better teacher and has allowed me to truly understand cultural differences. Contact info: aalas1@umbc.edu
Kathryn Barrett

From an early age, I have been fascinated by language, culture, and travel. I graduated from Goucher College in 2007 with a double major in French and International Relations and was fortunate enough to spend a semester studying in Paris and traveling around France and the rest of Europe. Once I graduated, I worked for an international foreign exchange organization, but knew I needed to get back overseas. I participated in the IFE internship program in Paris in 2011 and upon its completion, obtained a job as a Programme Assistant at UNESCO's International Institute for Educational Planning, which allowed me to remain in Paris. Passionate about intercultural exchange and understanding, I returned to the U.S. to attend the INCC program at UMBC where I also teach entry-level French to undergraduate students. After I complete my degree, I would like to help others in intercultural situations recognize and understand cultural differences in order to avoid miscommunications that could hinder understanding and cooperation. Contact info: kaba1@umbc.edu
Kellie Bland

I graduated from Elon University in 2007 with a major in Broadcast Communications and a minor in Spanish. I was bitten by the culture and travel bug after studying abroad in Mexico and Spain while in college. In addition to being in the INCC program, I am a Shriver Peaceworker Fellow at UMBC. I spent two years (2010-2012) in the Peace Corps in Nicaragua. While there I taught English to high school students and I faced many difficult intercultural challenges. After returning to the U.S. I felt that the INCC program was a good fit for me and aligned with all the things that I learned and enjoyed while living in Nicaragua. I am currently working at The Friends of Patterson Park in Southeast Baltimore, assisting the Hispanic Liaison with various events and activities for the Spanish-speaking community. After I complete my degree I would like to help others through difficult intercultural situations and allow them to see the world through multiple lenses.  Contact info: kbland1@umbc.edu
Alexandria Clay

Hi, I'm Alexandria. I have just completed my first year in the INCC program and I am getting ready to start my second year. This coming fall I will be a graduate assistant and will be teaching undergraduate Spanish. I love this program because not only have I learned about how and why different cultures view the world and interact with others in different ways but also how and why my own culture does the same. This understanding has enlightened me and I look forward to what I will learn in this coming year.  Contact info: aclay2@umbc.edu
Christina Crise

I am a 2006 graduate of Washington College with a major in French Studies and minors in Anthropology and Creative Writing. I also obtained my Secondary Education certification. I had the opportunity to study abroad in Aix-en-Provence, France my junior year of college and was able to also visit many different countries in Europe while there. I currently teach French at a high school in Howard County, Maryland. I hope to instill in my students the same love for French that my teachers gave me. When it came time to choose a graduate program, I knew I wanted something that mixed languages and culture together. My research very quickly led me to the Intercultural Communications program at UMBC and from there the decision was easy. This degree has helped me open my mind even further to the varying cultures that make up our world and I will be able to bring the lessons that I learn here in to my own classroom for the benefit of my students. Contact info: ccrise1@umbc.edu
Patricia Davila

I graduated from UMBC in spring of 2011 with a degree in Interdisciplinary Studies with concentrations in photojournalism and social issues. During my undergraduate career, I had the opportunity to do my capstone research in Perú, where I did a photojournalistic study on Andean identity in Lima. This visual thesis drew many concepts from intercultural communication, and so I was intrigued when I learned of the INCC graduate program. After graduation, I went on to work in the field of health care, where I faced many challenges with collecting medical records for foreign patients, and trying to submit a translated version of these records to health advisers and doctors. It was through this process that I realized how difficult it can be for the immigrant community in the U.S. to access appropriate, interculturally competent health care, whether it is because of intimidation due to status, or discomfort with assimilation into the English language. I came to the conclusion that immediate and frequent urgent health care needs do not wait for linguistic adjustment or cultural assimilation, and any misunderstanding or misinterpretation between the patient and provider can lead to the wrong treatment, or even death in severe cases. It is because of this realization that I will be pursuing a concentration in policy, in an effort to make a difference in the health care industry when it comes to serving immigrant families with limited proficiency in English. In my spare time, I like to cook, take photos, and most of all, travel as often as possible. My most recent trip was to Morocco and I don't plan on slowing down anytime soon! Contact info: davi4@umbc.edu
Carolina Felipes Porco

I grew up in a bilingual Quechua-Spanish community, which had two prevailing social norms: one based on nature and community and another in which social status and physical appearance were crucial. I often asked myself if this was the case in other cultures, so I pursued a degree in Linguistics in my hometown, Cochabamba, Bolivia. During and after my studies, I taught Spanish, Quechua and English. I also assisted customers from different countries in a telecommunications company and interpreted for health educators from the US. While learning English I spent 18 months in the US to gain a good insight of its culture. I have also lived in Ireland and travelled in Europe. Living abroad and learning languages have given me a deep understanding of complex multicultural environments. In this sense, the MA program in Intercultural Communication perfectly fits my interests: teaching, languages, different cultures, interpreting and travelling. I feel I would be a perfect candidate for teaching linguistic matters at university level and a researcher at organizations, such as PROEIB Andes, that support bilingual education, conservation and revitalization of minority languages. Contact info: carolinafelipes@umbc.edu
José Gomez

I graduated from Universitat Autónoma of Barcelona in 2013 with a degree in Translation and Interpreting. I have worked as an English and Spanish teacher for non-native speakers in Spain for more than four years and I have also helped in the translation of the international website of a Spanish publishing house.

I am passionate about languages, and since I was born in a town close to Barcelona, I grew up with both Spanish and Catalan, as these two languages are spoken in the Spanish region of Catalonia. Later on, I started studying English and French, and my next goal is German.

I chose Translation because I find it fascinating to be able to convey a particular culture to another one by means of words, which is no easy task in most cases. In the future I would like to devote my career to translation, proofreading and teaching, although I also feel drawn to the fields of international relations and cultural diffusion.

For me, pursuing a Master's degree in Intercultural Communication at UMBC will mean experiencing most of what I will learn in my own skin, since I will be a foreign student surrounded by another culture: it will no doubt be a fully real-life experience. I believe this Master's degree will provide me with the skills and knowledge with which I will best be able to contribute to our increasingly globalized world. Contact info: josegom1@umbc.edu
Yu Hao

Hi, my name is Yu Hao and I am currently a graduate student of INCC. The reason I chose INCC program is that I experienced many intercultural conflicts or stereotypes while communicating with my friends from other countries. Moreover, I found out that there were even intercultural conflicts between Chinese people from different areas. Apart from my graduate study at UMBC, I am also a teaching assistant teaching undergraduate Chinese for the MLL Department and the Chinese mentor of the ILE program. I am doing the Intercultural Training Track in INCC program as well as the TESOL certificate. After graduation, I would like to help people gain a better understanding of others, especially communication with Chinese people. More important, people should realize that intercultural communication cannot be ignored anymore and people should be much more open-minded to different cultures. Contact info: haoyu1@umbc.edu
Molly Lemoine

My name is Molly Lemoine, and I come to UMBC from the beautiful Hudson Valley region of New York State as a Peaceworker Fellow at the Shriver Center. Following undergraduate study in Political Science and French at Syracuse University, I joined the Peace Corps and spent the next two years serving as a university English teacher in the republics of Guinea and Mali, West Africa. After completing my Peace Corps service, I worked for a USAID economic development project in Bamako, Mali. Passionate about intercultural collaboration and understanding, I am pursuing a Master's degree in Intercultural Communication at UMBC. I am also the graduate coordinator for cultural programs in Student Life's Mosaic Center for Cultural and Spiritual Diversity, focusing on student outreach and programming. I am excited to make connections on campus and in the Baltimore community to promote cultural awareness, as well as facilitate an environment that celebrates learning and sharing among students of all backgrounds. After completing my studies at UMBC, I hope to start a career in international development, preferably focusing on education development in West Africa. Contact info: lemoine1@umbc.edu
Ogonna Owu

I'm Igbo-American. Growing up in a large multilingual, multicultural family and having various overseas opportunities to volunteer, study, work, travel and visit relatives provided the foundation for my love of learning various languages and cultures to flourish. I graduated from the University of California, Davis in 2008 with a major in Psychology and a double minor in Education and English. During the last quarter of my senior year, I was able to study abroad through a Spanish language and Argentine culture immersion program in Mendoza, Argentina. I loved the experience! After graduation, I later had another chance to live overseas for a year to work in Namyangju, South Korea as a foreign English teacher. Residing in Korea really helped to solidify my career interests in the international and/or cross-cultural field. I initially was interested in international education masters programs. However, I later discovered that unlike the other schools' programs, UMBC's INCC program requires students to take courses offered in a foreign language; which sealed the deal for me. Having those graduate classes in Spanish will not only keep my foreign language skills relevant; but, show potential employers that I have a great command of the language to be able to work in multi-lingual environments. After I complete my masters degree, I aim to work in either of the following areas: as an advisor in a university's office for international student services, study abroad or international admissions; a government agency such as the State Department domestically or overseas; or an international/cross-cultural consulting firm. Contact info: www.linkedin.com/in/ogonnaowuor oowu1@umbc.edu
Maria Mueller

Since I was a child, I have enjoyed traveling, getting to know new languages and cultures. I was born and raised in Germany so I first got to know the European countries. After finishing high school I took my first trip to the US. I was an Au Pair here in Maryland and that was when I first fell in love with the multicultural society that constantly grows and changes here on the East coast of the United States. I was just amazed how many people of diverse cultural backgrounds you can meet in one place. Ever since that time I kept on coming back to the US East Coast even though I did my undergraduate degree in education in Germany. After I got my bachelor's degree in education I worked for one year at the University of Mary Washington in Virginia as a Language Instructor for the German program. There I got a true experience of how it is to work with colleagues from all around the world. I had a wonderful learning experience by teaching my own culture and language to American students next to faculty from Italy, France, Spain, China, Saudi Arabia and other countries. During this time I realized that I wanted to continue my education in this intercultural field and therefore the INCC program was the perfect program. The classes have given me a deeper understanding for intercultural communication and I have acquired intercultural competency especially through the training track. After I complete my degree I would like to work as an intercultural trainer to help others communicate efficiently across diverse cultural backgrounds. Contact info: mm24@umbc.edu
Eva Piera

I am originally from Spain. I graduated from University of Valencia in 2011 with a major in English Studies. I obtained my Secondary Education MA at the same university in 2013. During my undergraduate program I studied a year abroad at University College of London, UK and a semester in Georgia College, US. I have also taken language immersion courses in France and Ireland and I am about to finish a second degree on Advertising and Public Relations at the Open University of Barcelona. I am currently teaching Spanish as a second language at the MLLI Department at UMBC. Education allows me to make a difference in the world on a small scale (Think locally, act globally!) and the INCC program gives me the opportunity to learn how to successfully deal with students from very different academic and personal backgrounds. I have an insatiable thirst for knowledge about other cultures but overall about people from all over the world. The Intercultural Training track at the INCC program has fostered my cultural mindfulness towards the others and self-awareness of my constant evolution. It makes me feel alive, part of a whole but at the same time unique among the rest. Contact: epierae1@umbc.edu

"The only people for me are the mad ones, the ones who are mad to live, mad to talk, mad to be saved, desirous of everything at the same time, the ones who never yawn or say a commonplace thing, but burn, burn, burn, like fabulous yellow roman candles exploding like spiders across the stars and in the middle you see the blue centerlight pop and everybody goes Awww!" On the Road, Kerouak.
Shannon Pierre-Jerome

My undergraduate years were spent locally at Towson University where I received my Bachelors of Arts in Foreign Languages. After graduating in 2009, I then served in Peace Corps Macedonia for 2 years as a Primary English Teacher. Needless to say, my time abroad was extremely rewarding and among all things, it led me to the Intercultural Communication Program at UMBC. I'm thrilled to be a part of this program as well as the Shiver's Peaceworker Fellowship. In addition to my graduate studies, I will serve as the graduate reading and writing tutor at the English Language Institute on campus. And besides being an ambitious learner, I am also a part-time world traveler, full -time day dreamer, aspiring soccer star and a proud sister of Lambda Theta Alpha Latin Sorority, Inc. With that said, I look forward to establishing great relationships at UMBC and within the Baltimore community as I continue to map out and develop my future. Contact info: shannonpierrejerome@gmail.com
Saulio Saleta-González 

Following a long journey that went through my birth country Venezuela, and my father's Dominican Republic, I came to the US to continue my professional education. After having completed a Master's degree in Civil Engineering at Virginia Tech and having worked for twelve years for a general contractor in Maryland and surrounding states, I was craving to work in more direct connection solving social problem, studying and teaching issues such as cultural, ethnic and class difference. I decided to become a more humanistic professional by exploring the fields of intercultural communication and foreign language education.  Having lived and worked for sixteen years in the USA, as a Latin-American immigrant and as a professional in the multicultural construction industry, has given me the opportunity to interact with people of nationalities as diverse as Americans, Dominicans, Egyptians, Eritreans, Guatemalans, Mexicans, Filipinos and Salvadorians, among others. I have been able to observe mine and others' experiences to grasp how relations between fellows of multiple backgrounds are affected by their interaction in a world, more than ever before, characterized by language, culture, ethnic, and gender differentiation dominated by power structures. I thought that a master program combining language education with the comprehensive study of intercultural communication would make the perfect fit for me. Currently, I am also a Spanish educator for the MLL Department. My plans after graduation include integrating my research in multicultural and language education with my teaching of Spanish, critical thinking and intercultural communication. Contact info: saleta1@umbc.edu
Paula Villanueva

I was born in Madrid (Spain) but by the time I was 12 I had spent half of my life living in Lisbon (Portugal) and I spoke fluently Spanish, Portuguese and English since I studied for three years in an American school. Even though I had been a Science student in High School, back in Spain I decided to set my "creative beast" free and graduated with honors from Istituto Europeo di Design in 2008 with a major in Digital Design. I then moved to Marseille (France) where I lived for 8 months working as a freelance photographer and a Spanish teacher and where I learned and improved my French. I guess that after my experiences living abroad, and all the things I discovered traveling around the world, multiculturalism finally burst forth: I decided to register as a full-time Translation and Interpreting student in Universidad Autónoma de Madrid where I graduated from in 2013 with a major in Literary Translation and a minor in Arabic. During my undergraduate studies, I received a grant to study for a semester in São Paulo (Brazil) where I explored Arabic language and philosophy. I was later offered an internship working in the Spanish Department of Foreign Affairs and Cooperation, evaluating and translating documentation on international conflict resolution and development projects. For these last two years I have grown personally and professionally as a freelance translator and a volunteer translator for several publications on sociocultural issues especially in North Africa. I am thrilled to have this opportunity to join the INCC program and to hopefully manage to "contaminate" others with the intercultural bug that once bit me! Contact info: paula7@umbc.edu.