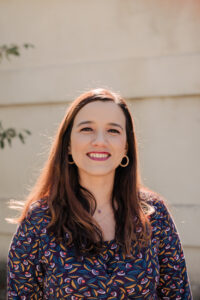 Dr. Thania Muñoz D. is an Associate Professor of Spanish, Latin American and Latinx literature and culture at the University of Maryland, Baltimore County (UMBC), professor and advisor of the Latin American Studies Minor, core faculty of the INCC MA program, Affiliate Faculty of Language, Literacy and Culture and  Gender + Women's, + Sexuality Studies. She is also the Managing Editor in Chief and Founder of Latino Literatures – A Cultural and Literary Journal.
She received her Ph.D. at the University of California, Irvine in the Department of Spanish and Portuguese in 2015. Dr. Muñoz current research and book project (Canons without Immigrants) focuses on the marginalization of Spanish/Spanglish language as vibrant literary languages in the US, contemporary Latin American and Latinx immigrant literature, memory/ intertextuality studies, poetry + translation, to explore how these narratives negotiate belonging within the boundaries of the United States and across the Americas.
She also further explores topics of immigration, its relationship to borders and language, through her continued community-engaged and creative work. She co-leads with Dr. Tania Lizarazo the service learning and digital story project, "Intercultural Tales: Learning With Baltimore's Immigrant Communities"  and is in the Advisory Board of Moving Stories: Latinas in Baltimore. Through these projects, and related publications, Dr. Muñoz brings a much-needed discussion to community-engaged scholarship, which mostly centers work done in person and/or by bringing students to do research with communities they do not belong to rather than on their own communities. Students already belong to different communities outside the university and bring these valuable experiences to our classes. By using digital storytelling as community building tool, we can challenge the traditional directionality of teaching and learning and strengthen ties with our local communities.
Dr. Muñoz Davaslıoğlu, is an immigrant from México and has familial ties to Türkiye
Website: https://thaniamunozd.com/ 
RECENT COURSES TAUGHT
SPAN 305 – Spanish for Heritage Speakers (taught every Spring Semester)

"Monsters" in Latin American Literature

Latinx Literature in Spanish and in Translation

Self-Portraits of Latin America: Memory, Migration, and Identity in the 21st Century

The Politics of Spanish Language and Literature in the U.S.

Studies in Spanish Language – Writing Intensive Course (SPAN 401 / 601)

The Political Economy of Culture ( INCC – Graduate Program Core Course – MLL 603) 

SPAN 312 – Cultural Productions Across the Americas (taught every Fall Semester)

SPAN 302-Level Advanced Spanish Language (taught every Fall Semester)
PUBLICATIONS

JOURNAL ARTICLES

"Learning with Maryland's Immigrant Communities: Digital Storytelling as Community Engagement." Munoz Davaslioglu, Thania and Tania Lizarazo. Journal of Community Engagement in Higher Education. Vol 14, No 1. pp.41-56 (2022). 

" 'La patria es impecable y diamantina': Performing Diamantina in Cristina Rivera Garza's (Non)Fiction." Latin American Literary Review, 48(95). pp.41-48 (2021)

"Latin American Writing in the United States: Intertextual Encounters and Narrative Memory in Norte (2011) by Edmundo Paz Soldán." Middle Atlantic Review of Latin American Studies (MARLAS), 2(2), pp.52–65 (2018)

"Espacios de salvación y prisión: Memoria narrativa y "colindancia" en La ciudad de los hombres de Cristina Rivera Garza." Catedral Tomada – Journal of Latin American Literary Criticism. Vol 4, Nº 7 (2016) ISSN 2169-0847. 

"INFANCIA, FUSILES Y BALAS: TESTIMONIO DE HENRY DUBÓN RECOGIDO Y TRANSCRIPTO POR THANIA MUÑOZ." Otras Voces: Nuevas Identidades En La Frontera Sur De California (Testimonios) University of North Carolina Press, Raleigh, NC, 2011.

" 'El Ruco Cholo Pachuco' de Pepe Serna" at The New LATC", Los Angeles, CA. KARPA, Dissident Theatricalities, Visual Arts and Culture. 1.2 (2008)

REVIEWS

Review: Autobiografía del algodón (Random House 2020), by Cristina Rivera Garza. La Vaca Multicolor. Revista Literaria y Cultural. May, 2021.

Review of Roberto Bolaño, Amberes. Barcelona: Anagrama, 2002. Palabras Malditas, Digital Cultural Magazine, Mexico City, 2009

WEB PUBLICATIONS 

"Our Birth Story: on Latina Motherhood, a Pandemic, and Belonging." La Bloga – The World's Longest-Established Chicana Chicano, Latina Latino Literary Blog. May 4, 2021.

Interview with Fernanda Espinosa: "Documenting Other Histories: Art, Orality, and Our Communities" Latin@ Literatures. A Cultural and Literary Journal. Vol 1. Issue 0 (online). September 2016.

"Mucho ayuda el que no es trova". Palabras Malditas, Digital Cultural Magazine, Mexico City, 2010

"Travelogues of La Semana Negra de Gijón (The black week of Gijón) Asturias, Spain". La Bloga, Chicana, Chicano, Latina, Latino, & more. Literature, Writers, Children's Literature, News, Views & Review, 2008.

BOOK PROJECT

CANONS WITHOUT IMMIGRANTS: Immigrant Literature, Spanish in the United States, and the Latinx Question


CREATIVE WORK AND TRANSLATIONS

Digital Story: "Our Birth Story: on Latina Motherhood, a Pandemic, and Belonging." Moving Stories: Latinas in Baltimore, February, 2023.

Translation, Poems from Pangea Death: The Timeless Continent by Carmen Lucía Alvarado Benítez, translated by Thania Muñoz Davaslıoğlu & Alberto Vladimir Castillo Ventura. Firmament, Vol. 3 No. 1. https://sublunaryeditions.com/products/firmament-vol-3-no-1-various

"I scratch the earth" by Carmen Lucía Alvarado Benítez, translated by Thania Muñoz Davaslıoğlu. Fence. https://fenceportal.org/

Translation, "La era de piscis," Ignacio Elizalde Johnson, Circumference Magazine, 2022.

Terca. Poetry collection. Guatemala: Editorial Catafixia, 2013