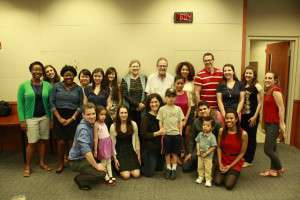 M.A. Program in Intercultural Communication
The Department of Modern Languages, Linguistics, and Intercultural Communication (MLLI) at UMBC offers a program leading to an M.A. in Intercultural Communication, with a focus on French, German or Hispanic studies. Non-native speakers of English also may participate in the program and may focus on U.S. culture, including the teaching of English as a second language. An expanding field, Intercultural Communication is the study of the ways in which social structuring, social assumptions and language use bear on interactions between members of different cultures. The aim of the program is to allow students to develop advanced foreign language proficiency, to train them to function comfortably and effectively in intercultural situations, and to prepare them for specific career goals through individual courses of study and internships. Students and faculty come from various parts of the world, and participation in the program is itself a significant intercultural experience.
In this program, we aim to help our students acquire the following skills: the ability to communicate effectively in different intercultural environments; the understanding of the social, political, cultural and linguistic factors, and the positive informative potential of intercultural citizenship involved in the process of intercultural communication; the development of the level of proficiency in the target language and culture through advanced topic courses in the language; and the acquisition of intercultural skills in areas such as education, digital media, policy and training.
"Culture impacts everything we think, say, and do, so there couldn't be a degree program more relevant and promising in our attempts to understand human existence and the dynamics of intercultural exchange. Unlike most graduate degree programs in Modern Languages, UMBC's M.A. in Intercultural Communication is dedicated to triangulating cultural exploration from multiple theoretical and practical perspectives, both language-specific and non-language specific in orientation. A well-rounded, interdisciplinary, and unique curriculum provides students with hands-on skills for contextualizing culture, from the verbal to the non-verbal and the conscious to the sub-conscious. They graduate from the program not only as experts in their given languages and cultures of study, but, more importantly, as highly competent, eagerly sought-after intercultural mediators in education, international business, law, and politics, and a number of other fields."
Dr. Erik Angelone, Assistant Professor of Translation Studies, Kent State University, and a 2001 INCC graduate.
Degrees offered:

●M.A. (thesis and non-thesis options)
●Accelerated B.A./M.A.
The program provides students with the intercultural sophistication and foreign-language proficiency to fill positions in:

●Foreign-language education and training programs
●International education and foreign-student advisement
●International relations
●Personnel services in industry, medicine, government, and law
●Social service and community organizations
●Human-right organizations
●Marketing foreign goods and services in the US and abroad
●Travel and tourism
Three areas of skills acquisition are emphasized:

●Intercultural filmmaking
●Intercultural training, including conflict resolution management
●Intercultural policy issues—immigration, cultural and language policy
Many students also choose to pursue simultaneously a Post-Baccalaureate Certificate in ESOL
Many of the graduates from the program have found positions in the above fields, and others have been accepted into Ph.D. programs at research institutions such as The Johns Hopkins University, the University of California, Berkeley, New York University, the University of California, Santa Cruz, and the University of Maryland, College Park. Graduates also may apply to the Ph.D. program in Language, Literacy and Culture (LLC) at UMBC.
Contact the Graduate Program Director of MA in Intercultural Communication
Dr. Nicoleta Bazgan (nbazgan@umbc.edu)