Author of Knitting the Fog
Cross-promotion from this original event. Register Here.  For Women's History Month, the new Latin American Studies Minor will host Claudia D. Hernández for a virtual talk in English. In...
Posted: March 10, 2022, 1:25 PM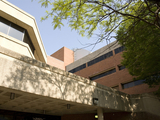 Recent MLLI graduate Anessa Hughes reports that since graduating (Magna cum Laude) from our LING program, she has begun a full-time position as staff interpreter for the Centralized Interpreter...
Posted: February 23, 2022, 2:03 PM